Made a simple carrot and date salad for my mid day meal today.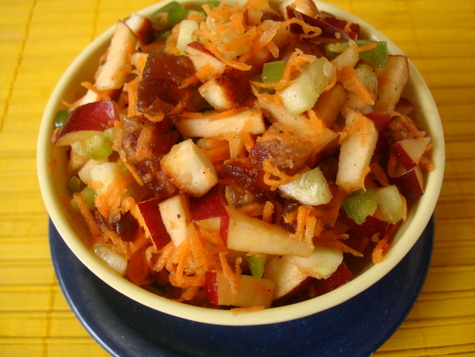 Bring together 1 chopped apple, 1 peeled and chopped cucumber, 1 finely chopped capsicum, 1 grated carrot, 1/4 cup paneer cubes, 5 chopped dates, salt and pepper to taste and 1 tbsp roasted sesame pwd. Toss well. Add any fruit of your choice.
Monday high raw food diet ~
Morning: 6.15 am – Glass of luke warm lemon water
Breakfast: 7.30 am – Large glass of carrot bottle gourd juice
Mid Morning: 9.30 am – A guava and an apple
Mid Morning: 11 am – Glass of minty cucumber juice
Lunch: 1.30 pm – Carrot and Date Salad
Late Afternoon: 4 pm – Cup of green tea
Dinner: 6.45 pm – Bowl of lightly steamed mixed vegetables tossed in salt and pepper and a dash of lemon juice
Drank more water than usual. Just before going to bed, I will take a tsp of triphala churna with a tbsp of honey.
High raw food Recipes
Pineapple Paneer Salad
Black Chickpeas Fruit Salad
Peas, Paneer and Peanut Salad
Apple Broccoli Cucumber Salad
Star fruit Chickpea Capsicum Salad
Mixed Fruit Salad