Crispy Karela
Even a Karela hater will love this recipe. Today, the spotlight is on Tarla Dalal's winning recipe. She used the simplest of ingredients to bring out a splendid mix of flavors and texture, far beyond what I had expected. The addition of roasted cashews and sesame seeds gave a crunchy, nutty touch to the spice-tinged, jaggery flavored crispy bittergourd. Made it twice already, within a span of a few weeks, its just that good.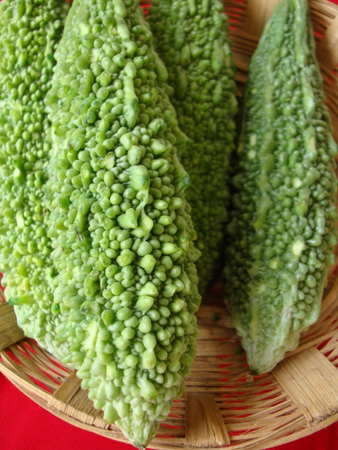 Bittergourd, Karela, Kakarakaya
Crispy Karela Recipe
Recipe Source: Tarla Dalal
Prep: 30-35 mts
Serves: 4-5 persons
.
Ingredients:
1/2 kg/500 gms Karela/Bittergourd/Kakarakaya
oil for deep frying
a little less than 1/4 cup grated jaggery
1/2 cup water
1 1/4 tbsp roasted til/sesame seeds/nuvvulu
1 tbsp broken cashew nuts
salt to taste
Seasoning/Tadka/Poppu:
2 tsps oil
3/4 tsp cumin seeds/jeera/jeelakara
large pinch hing/asafoetida/inguva
2 sprigs fresh curry leaves/karivepaku/karipatta
3 green chilli, slit
1 Wash the karela, lightly peel the skin, slice into rounds and wash in salted water.
2 Heat oil for deep frying in a heavy bottomed vessel. Add bitter gourd slices to the hot oil and deep fry till golden. Remove onto absorbent paper and keep aside.
3 In a separate vessel, drizzle some oil, add cumin seeds and as they crackle, add curry leaves, green chillis and hing. Add broken cashewnuts and saute for 3 mts.
4 Add the jaggery along with the water and let it cook till the jaggery melts completely. Once it melts, add a pinch of salt and cook for another 4 mts. Add the fried bitter gourd pieces and combine well. Let the slices coat with the jaggery mixture well and cook till there is no liquid left. Sprinkle roasted til and combine. Turn off heat and serve hot. The bittergourd slices should retain a bit of crunch.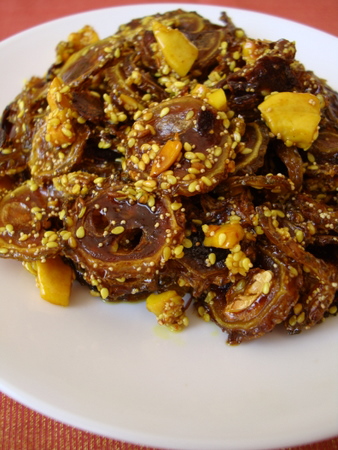 Note:
Instead of deep frying, alternately, bake the bittergourd slices on a greased baking tray, drizzle some olive oil over the slices and bake till crisp. Follow the rest of the recipe.