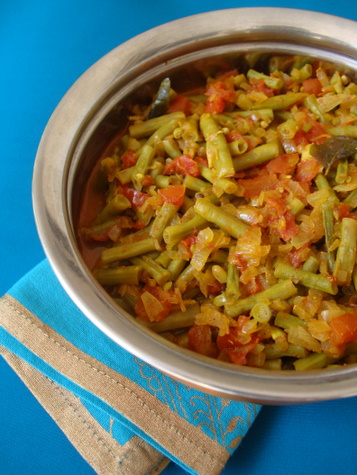 Long beans tomato curry
This simple recipe is a version of a classic tomato curry and makes a decent side with rotis or rice. Fresh long beans are blanched to tenderness and simmered with caramelized onions, tomatoes and garlic to deliver a hearty, warm curry. This recipe works with most stringy beans.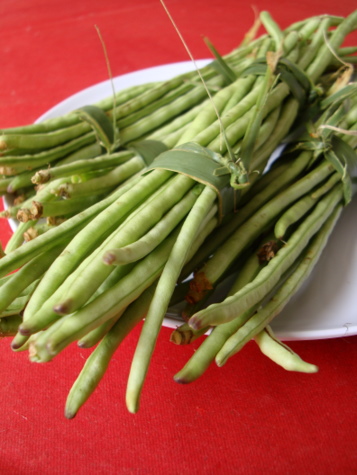 Yard Long Beans ~ Barbati
Barbati Tomato Recipe
Prep & Cooking: 30 mts
Serves: 4-5 persons
Cuisine: Andhra
.
Ingredients:
2 cups barbati/long beans, chop into 1 1/2″ pieces, par-boil in salted water for 5 mts and strain
2 medium onions, finely chopped
2-3 slit green chillis
2 large tomatoes, finely chopped
pinch of haldi, turmeric
1 tsp red chilli pwd (adjust)
1 tbsp grated jaggery (adjust according to your choice)
pinch of roasted methi pwd
salt to taste
fresh coriander leaves for garnish
For tempering/tadka/poppu:
3-4 crushed garlic cloves
few curry leaves
1 1/2 tbsps oil
1 Heat oil in a cooking vessel, once hot, add the garlic, red chillis and curry leaves, stir fry for a 5-20 secs1.
2 Add the slit green chillis and onions and saute till soft and lightly browned. Add chilli pwd, coriander pwd, turmeric pwd and roasted methi pwd and combine. Add tomatoes and saute further for 5 mts. Cover and cook on medium heat for 5-6 mts.
3 Now add the par-boiled long beans, jaggery and salt and cook for another 2-3 mts. Add 1/2 cup of water and let it cook covered on medium heat for another 8-10 mts or till the beans are cooked and the curry reaches the consistency of your choice.
4 Adjust salt and turn off heat. Garnish with fresh coriander leaves and serve with rice or chapatis.
Kitchen Notes:
You can even add some milk, about a few tbsps, once the curry is through and keep stirring till its absorbed and turn off heat. Another variation – garnish with freshly grated coconut.